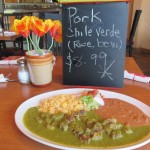 Eaters that loved and miss the recently closed Basalt restaurant Taqueria El Nopal, can rejoice in the fact the chef is still cooking.  The new Mexican restaurant La Cocina del Valle has opened with Chef Alejandro in the kitchen.  The restaurant is serving Lunch, Dinner & Take-Away from the space many would remember as Midland Bakery on Two Rivers Rd. in downtown Basalt.  The menu is a combination of favorites from the old Taqueria along with other unique authentic Mexican dishes.
The location will soon become your favorite patio space in downtown Basalt.  The restaurant is fruits of the Valley Settlement Project, a dual generation program focused on school readiness, elementary school achievement, economic stability and community engagement for local families.
What more could you ask for other than a great meal with a community benefit in a cozy dining room.
View restaurant details & menu here…