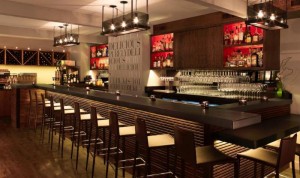 A shift in the focus at
bb's
comes this winter.  
– View the new menu
To My Valued Patrons:
I want to thank you for sharing your love of great food with us as a patron of bb's kitchen. I am excited to announce – and explain – big news about changes we have planned. When we open for the season on December 12, you can expect a new menu,  a new distinctive dining format, and a focus on dinner dining only, with the same warm, contemporary atmosphere.
Now open for dinner only, bb's will offer 28 globally-inspired small plates that include a diversity of ingredients, influences, and intriguing flavors. We also will serve several traditional entrées. The choice at bb's becomes not simply what to eat, but how to dine – to share or not to share a variety of small plates or to choose a traditional entrée.
After three years as a successful breakfast, lunch, and dinner venue, I decided to make these changes for two important reasons. First, our success at breakfast and lunch caused bb's to be branded as a daytime restaurant, which curtailed our dinner business. Second, when I embarked on this journey, it was to pursue mylifelong passion for food and entertaining, as well as to bring something new and different to the Aspen restaurant scene. I wanted a place that would be an expression of my culinary interests, where I could experiment with different foods and formats, and where patrons could gather with friends to share in my passion. These current changes reflect the evolution of my original aspirations.
I understand that those who have enjoyed bb's for breakfast and lunch might be disappointed, but I hope that you will try our new dinner format. I am confident that if you do, you will find the food and the dining experience to be memorable.
Executive Chef Katie Lorenzen-Smith still heads the kitchen. This winter, she'll serve up dishes such as Black Truffle Risotto Cake with shaved Brussels Sprouts,Truffled Lamb Meatballs, Citrus Pork Belly, Perogies 3 Ways, Green Papaya Salad, Kobe Beef Tartare, and Quinoa Sushi. The "Simply Prepared" entrée section offers several options, including Roasted Bronzino, 14 oz. Prime Ribeye, Roasted Half Chicken, and the 1 lb. Kobe Meatball.
I truly appreciate your past patronage and I hope that you will visit us this winter to take part in bb's evolution.
Looking forward to seeing you!
BruceFor reservations or more information, please call 970-429-8284.