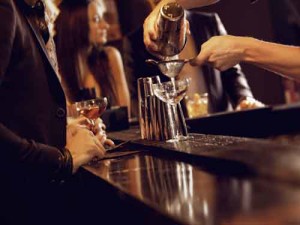 Aspen's Iron Bartender will be crowned Sunday, March 25 5:30-6:30  in the final Iron Bartender Competition hosted by Aspen's Little Nell Hotel's Terrace Bar.
The Best Local Aspen bartenders have been competing over the last few weeks creating unique cocktails, the winners of which have moved into future rounds with the ultimate victor winning the crown and a trip to "Tales of The Cocktail" in New Orleans to party with some of America's greatest cocktail creators.
The Final 2 Bartenders are Erin Harris of Jimmy's Restaurant and Nate Harnish of Pacifica Restaurant
A sneak peak at the cocktails.
Spice Trader Punch
concocted by Nate Harnish of Pacifica
2 oz. Arrack
3/4 oz Grand Marnier
3/4 oz Lemon Shrub
3/4 oz Grapefruit Shrub
1/2 oz Cognac
Shaken, Strained, & garnished w/ Nutmeg & Black Tea Ice Cube
Smoking Hot Grandma (AKA G.I.L.F.)
concocted by Erin Harris of Jimmy's
3 pieces opineapple
thin slice grilled jalapeno
1 1/2 oz Herradura tequila
3/4 oz Grand Marnier
1/2 oz fresh lemon juice
1/2 ox fresh lime juice
splash aqave nectar
Shaken, double strained over fresh ice, w/ a grilled pineapple garnish
Arrack Shrub
Read Q/A with the Bartenders by the Little Nell